Is Felicity Jones Returning to Star Wars Soon?
Rogue One is the best movie in Star Wars (yes it is – I will fight you). There are many reasons for this – a stellar cast, a tight script, a gritty tone, loads of fun Easter eggs – but it all could have come crashing down without the amazing lead performance of British actress Felicity Jones as Jyn Erso. The nature of the story ensures that Jyn won't be appearing in any Star Wars stories based later in the timeline, but does this truly mean the end of her participation in the franchise?
Felicity Jones and her already-impressive professional acting career
If you hadn't seen Felicity Jones prior to the first stand-alone film in the franchise, you might have thought she was a young actor plucked from obscurity to lead a Star Wars movie, just as Mark Hamill and Jake Lloyd did in their day. But in fact Ms. Jones was already an accomplished actress before landing the role of Jyn Erso.
Felicity Jones: the early years
Felicity Rose Hadley Jones was born in Birmingham, in England's West Midlands, in 1983. She attended Kings Norton Girls School and began her acting career at age 12 in the TV movie The Treasure Seekers before having the chance to play Ethel Hallow in the television series The Worst Witch and its sequel Weirdsister College. She balanced her school and acting well, including a gap year before college, until finally graduating from Oxford.
Ms. Jones returned full time to acting in her twenties and became well-known in a wide variety of films and TV movie roles such as Catherine Morland in the 2007 adaptation of Jane Austin's Northanger Abbey, Cordelia Flyte in 2008's Brideshead Revisited, Mandy Hodgson in 2010's Soulboy, and Miranda in the big screen adaptation of Shakespeare's The Tempest. Her performance as Anna Gardner in 2011's Like Crazy, where she improvised her dialog and did her own hair and make-up, earned her a Special Jury Prize at the Sundance Film Festival. She also worked in theatre productions such as The Snow Queen and The Chalk Garden.
Her first blockbuster role came in 2014's The Amazing Spider-Man 2 where she played Felicia Hardy and proved that her impressive talents could extend into the biggest of productions.
Felicity Jones as Jane Hawking
That same year saw the release of The Theory of Everything, a biopic about famed physicist Stephen Hawking, where Felicity Jones starred alongside Eddie Redmayne as Stephen's wife, Jane Wilde Hawking. Jones started preparing for this role by meeting and studying the real Mrs. Hawking, and her role was so convincing that Mrs. Hawking claimed that it was like watching herself on the screen.
The Theory of Everything was widely praised and Ms. Jones received Golden Globe, SAG, BAFTA and Academy Award nominations for Best Actress.
Felicity Jones takes on Rogue One: A Star Wars Story
With this breadth of experience and long list of award nominations, should it be any surprise that Felicity Jones absolutely crushed it as Jyn Erso? As the first standalone film ever in the Star Wars saga there was a lot of scrutiny on Rogue One and it had to give a good account of itself with few crutches from the previous films. Jyn Erso was a new kind of hero – the first anti-hero in the saga – and Ms. Jones delivered a compelling performance that brought dramatic depth to that galaxy far, far away not seen since The Empire Strikes Back.
One of the most powerful aspects of Rogue One is the fate of its heroes at the end, and unfortunately this means that Jyn, Cassian et al can't return for future films based later in the timeline. But does this mean we've seen the last of Jyn Erso?
Felicity Jones did return to offer her voice talents to two episodes of Star Wars: Forces of Destiny, a series of animated shorts featuring the female heroes of the saga. Jyn's stories take place prior to the fateful events on Scarif, and Disney has shown no aversion to jumping around the galactic timeline to bring back characters who have died.

One series currently being developed is Andor, based in the years leading up to the events of A New Hope and centered on Jyn's fellow rebel Cassian Andor. While there's no hard rule saying that Jyn can't appear in this series, it would be a big stretch of the established canon since Jyn and Cassian clearly didn't know each other prior to their first on-screen meeting on Yavin 4. Personally, I wish Disney had taken a different angle and made a series called Erso to focus on Jyn instead of Cassian, but I'll hardly be cancelling my Disney+ account in protest.
Too big a deal to return?
Based on her professional success since her role in Star Wars, it would be easy to believe that Felicity Jones is too busy to return. In the same year she played Sienna Brooks in Inferno and Mum in A Monster Calls as the Los Angeles movie-making establishment realized her talent and started offering more roles. She displayed her comedy chops on Saturday Night Live, starred in The Aeronauts and Dragon Rider, and even as Supreme Court Justice Ruth Bader Ginsburg in the 2018 biopic On the Basis of Sex.
More recently, Ms. Jones has stepped up into director and executive producer roles, founding her own production company, Piecrust Productions, with her brother Alex.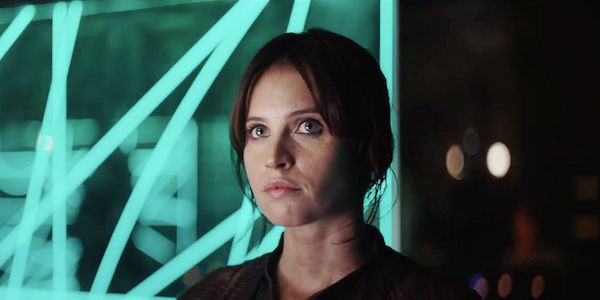 Will Felicity Jones return as Jyn Erso?
With fellow English actress Daisy Ridley having delivered an outstanding performance as Rey in the Sequel Trilogy, some might argue that the galaxy already has its young, female lead and that to return to Jyn's story would be a step backward. But the Sequel Trilogy was divisive (to say the least) and Rey's ancestry plays a huge role in that controversy – Disney might be wise to let that story rest, at least for a while.
The character of Jyn Erso has appeared in various comics and novels, and is clearly both a fan favorite and a growing figure in the lore of the galaxy, but so far she's had no further live-action coverage. While there are no stated plans for Jyn Erso to return in a lead role, there are plenty of opportunities for the character to make an appearance within the currently planned projects. 
As mentioned before, Andor would be a logical (if awkward) way to bring Jyn back. Kenobi would be another interesting avenue to see Jyn again, depending on exactly when in the timeline Obi-Wan's show takes place. And yet another intriguing possibility would be Ahsoka. Although this series is intended to be set after Return of the Jedi, there have been strong hints that there will be flashbacks even as far back as the Clone Wars – who's to say Ahsoka never crossed paths with Jyn in their galactic wanderings?
In a 2021 interview, Felicity Jones revealed how much she loved the character of Jyn Erso. She even described how she took some of Jyn's toughness into the real world, standing up to a bully on the street to protect her neighbor. The actress has long been a fan of Star Wars and her experience making the film was extremely positive. Could she be tempted to return?
The potential for a Jyn Erso series
Although it might be challenging to find a solid dramatic path to bring Jyn back, Forces of Destiny hinted at how it could be done. Teen-aged Jyn Erso led a life of high drama, first with Saw Gerrera and his Partisans and then as an embittered criminal on her own. Star Wars has always presented a somewhat sanitized view of the squalor into which most galactic denizens are born: a TV series about a young, troubled Jyn could provide a more mature vision of the galaxy.
Star Wars fans are certainly ready for that. Felicity Jones could certainly deliver. So what are we waiting for?
Share This Story, Choose Your Platform!