Lars Mikkelsen as the Live-Action Grand Admiral Thrawn
Several iconic Star Wars characters have recently made the leap from animation to live action – most notably Ahsoka Tano and Bo Katan Kryze in the second season of The Mandalorian – and now whispers are flying about another animated face appearing in the flesh: Grand Admiral Thrawn. Rumor is that the same actor who voiced this character in Star Wars: Rebels will return to give him life on screen: Lars Mikkelsen.
Who is Grand Admiral Thrawn?
If you're the kind of Star Wars who only watches live-action parts of the franchise, you may have wondered who Ahsoka was talking about in her Mandalorian episode when she asked with great intensity, "Where is Grand Admiral Thrawn?"
Thrawn was originally created by author Timothy Zahn for Heir to the Empire, the first in a trilogy of novels touted as the successors to Return of the Jedi. Thrawn was the senior surviving Imperial officer and over three books he made life miserable for the Rebels as they tried to restore the Republic. Thrawn was tremendously popular as a character and there was deep regret in the fanbase when Disney bought Lucasfilm and declared all the novels no longer canon.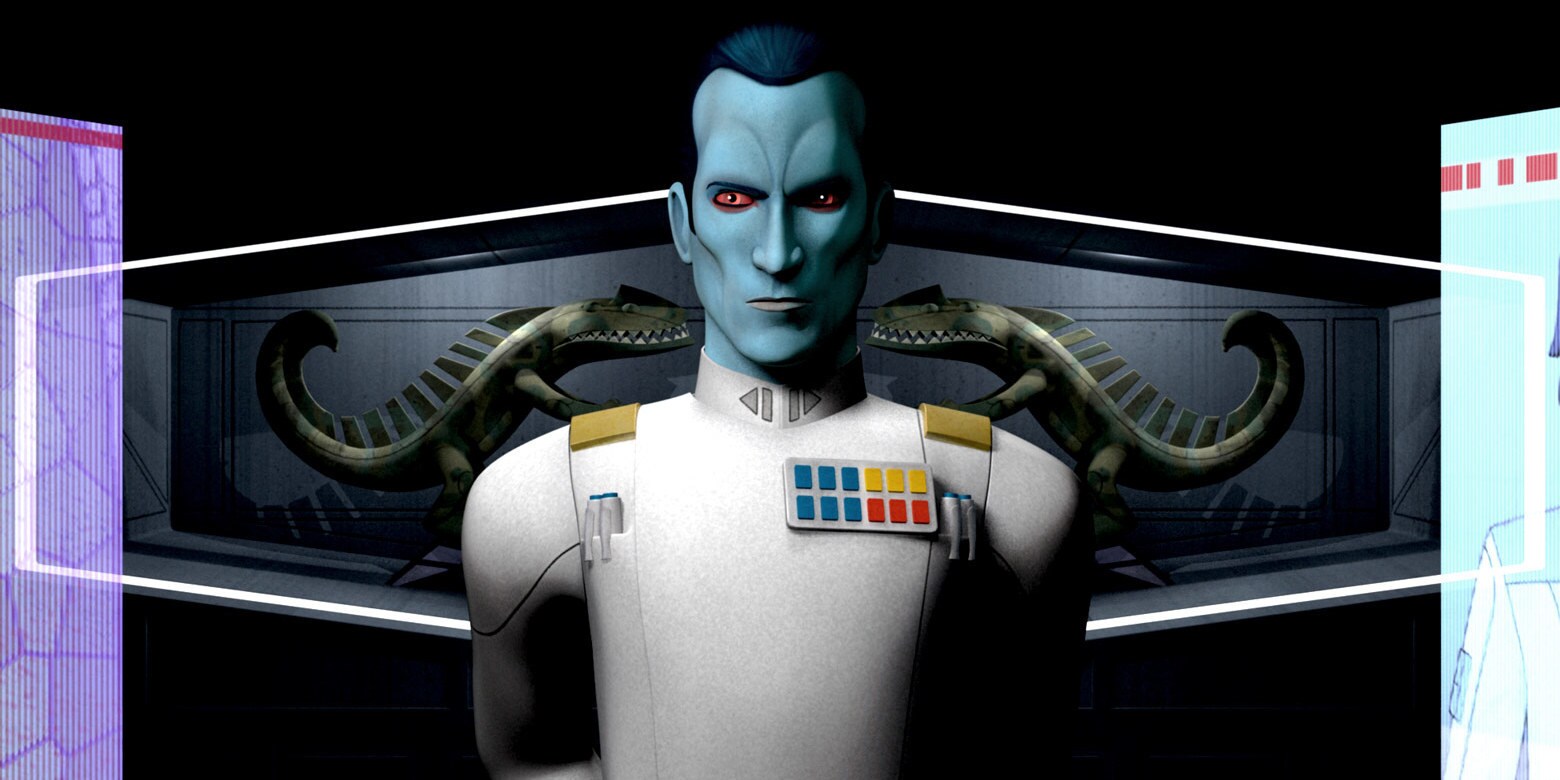 You can't keep a good character down
In 2016, though, Thrawn re-entered canon as the major villain of Star Wars: Rebels, a sinister, blue-skinned Chiss who considered warfare a battle of wills and relentlessly hunted down our heroes. Lars Mikkelsen provided a chilling voice to this calm, ruthless antagonist. The drama was always higher when Thrawn entered a scene and the fandom loved this new iteration of the character.
We last saw Thrawn in the 2018 Rebels finale when he and hero Ezra Bridger were swept away into hyperspace by the mysterious purrgil. No-one currently knows the fate of either character, but Ahsoka's question raised high hopes that one or both of them will be returning.
Recent media reports, like this one from Small Screen UK, have stated that Lars Mikkelsen will be returning to Star Wars as Grand Admiral Thrawn. This casting hasn't been officially announced by Disney or Lucasfilm, but it isn't usual for leaks like this to happen and the official announcement merely confirms what's already known.
Who is Lars Mikkelsen?
But who is Lars Mikkelsen? He's a Danish actor with many international credits, perhaps best known to American fans for his portrayal of Sherlock villain Charles Augustus Magnussen in 2014, or his role as Russian President Viktor Petrov in House of Cards (2015-2016). He's played many Danish roles, including Troels Hartmann in the Danish drama Forbrydelsen. He won an International Emmy Award for the Danish TV drama Herrens Veje, translated in English as Ride Upon the Storm.
Lars is the older brother of actor Mads Mikkelsen, another accomplished actor best known as tragic figure Galen Erso in Rogue One, as well as his turn in the title role of Hannibal Lector. Each brother has his own sharp features and high cheekbones, which may account for their frequent casting as sinister or dark characters.
When art imitates life
Grand Admiral Thrawn, when re-imagined for Rebels, was actually designed to look like Lars Mikkelsen, explaining why Thrawn in the series has different features from Thrawn on the old book covers. Voice actors can't always make the transition to live-action, but Lars Mikkelsen certainly has the chops to appear in front of the camera and his character was thankfully designed to imitate his features.
When will Lars Mikkelsen appear in Star Wars?
We have to remember that nothing is yet confirmed, but it's very likely that Thrawn will appear in Star Wars: Ahsoka, likely in direct conflict with the title character. No dates have been announced for this series yet, and with production already underway for The Book of Boba Fett, Star Wars: Kenobi and Star Wars: Andor, fans may have to wait until 2023 before Ahsoka and Thrawn return to live action.
Until then, we can still enjoy the next-best thing in Star Wars: Rebels where this Danish actor has lent his voice-acting to the animated character designed in his likeness.
Share This Story, Choose Your Platform!